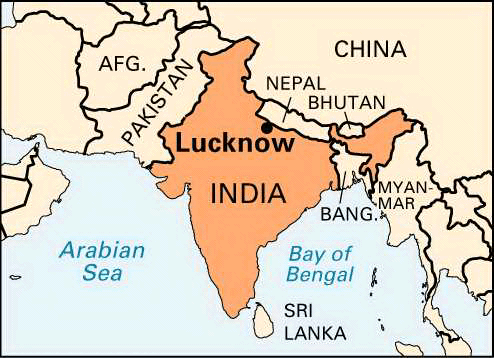 DRIVING THROUGH Lucknow on this chilly winter weekend, I noticed that this northern city has some of the cleanest and straightest roads in India. This is my fourth visit to the capital of Uttar Pradesh, but I never really paid much attention to the roads before. That is, until now. Perhaps I've been too impervious to the roads of Kolkata that Lucknow suddenly offers me a complete change of scenery. (I wanted to be a bit more descriptive about Kolkata, but that would make my Bengali friends dislike me a lot!)
Two years ago, when I first visited Lucknow, the city was being positioned as "The Next Fashion Destination". Back then, I didn't understand this positioning since there was nothing that impressed me in Saharaganj, the city's most modern shopping center at that time. I couldn't grasp the personality of the catchment as well. A weekend ocular analysis around Saharaganj revealed nothing. There was little vehicular traffic and even less pedestrian movement in the shopping center. I honestly thought back then that the entire buying population was busy staying indoors on a late Saturday afternoon and hoping that the mall would come to them!

This weekend, having had the chance to move around the city, I realize that Lucknow oozes with old-world charm, not of the British colonial variety, but closer to its Muslim heritage. While traversing a wide, almost endless avenue that connected me from the airport to the city, I saw sandstone sidewalks that are actually being used by pedestrians (most city sidewalks in India are used by peddlers), tree-lined side streets, marble domed buildings with wide gardens, and small Islamic monuments dotting the road.

I realize that the gentle, laid-back character remains. In fact, it's what makes Lucknow pretty. At Fun Republic—now the largest mall in town with several designer boutiques—footfalls were low, and they came from twenty-something youth strolling hand-in-hand. They included men holding hands, which I decided might be an Islamic social custom. I didn't see much of an older audience, but the few senior couples I saw were tagging along what could be their grandchildren.

Dressed in unobtrusive winter wear, the crowd I saw did not look and feel cosmopolitan. Perhaps "Next Fashion Destination" refers less to their sense of clothing and more to their sense of style: the Lucknowites may lack the glitz of their fellow northerners in Delhi, but they do carry themselves with the quiet air of good breeding.

Related Stories: Official Web Site of Lucknow; The City of Nawabs